Friday, April 14, 2006
Throwback Friday #13.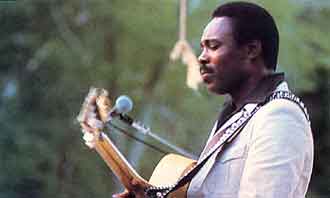 P

lease do excuse my tardiness! I'm getting this in kinda late into Friday, admittedly. I just helped myself to some good eating while watching the new episode of Wonder Showzen, where we all learned that "Dumb Is Golden", with the help of Amy Poehler and David Cross, among others.
On this segment of
Throwback Friday,
we're going back to 1974 for George Benson's "A Changing World."
George Benson -
A Changing World
(sendspace link)
Might I say this is another perfect springtime song. Nice to play while resting in the park, with the breeze sloping over your face. This one was one of the few ballads off the album
Bad Benson
, a trip into the world of jazz fusion. Benson is well-renown in the world of jazz as one of the greatest guitarists to ever live. He has also been noted for his acceptance of different styles to which he would play with. This is truly the case because you would be hard pressed to see Charles Mingus or Sun Ra on VH1 Classic, but yet, you see George Benson, who had crossover hits in "Dreamin'" and "Twice The Love" (I've only seen the former myself).
Meanwhile, fast forward twenty years from "A Changing World". From Pittsburgh, PA to Chicago, IL, 1994 saw the release of an album called
Resurrection
.
Common Sense - I Used To Love H.E.R. (sendspace link)
Hah! Had you fooled! That isn't the original version. Of course I could upload it if I really wanted to...but why would I do that when I can simply post a stellar remix of it? Sure it doesn't carry the same George Benson sample, but you should already know the Common joint enough by now to know the sample better than your mother's own telephone voice goddamnit.
Thank 9th Wonder here for offering a nice, safe alternative to the norm we all know and love.
Easter egg hunt tomorrow! Maybe I'll make a new
friend
!
Cheers,
~*E*~